The shoulder is a ball-and-socket joint. The shoulder has several muscles that help it move and allow a wide range of motion. A strain or pulled shoulder muscle can affect the slightest movements, making simple activities difficult and painful. Pulling a muscle in the shoulder can be caused by an injury, overuse, and general wear and tear. Minor shoulder injuries usually heal on their own with rest and self-care. Severe shoulder muscle injuries should be addressed by a medical professional.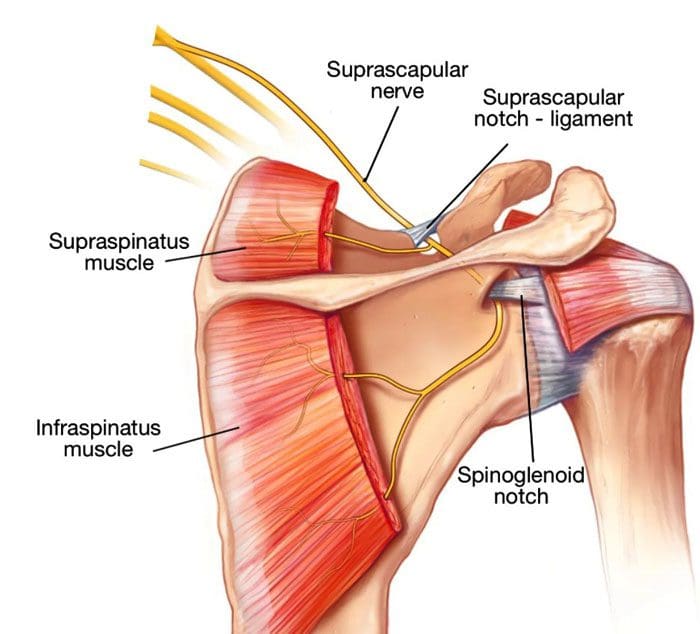 Pulled Shoulder Muscle Causes
Pulling a muscle in the shoulder can happen quickly. This could be from falling on the shoulder, an auto accident, or a work accident. It can develop after weeks, months, and years of repetitive motion and overuse. It is common among individuals that play certain sports or jobs that require repetitive activities with the shoulders. They can also happen with no apparent cause. Treatment and recovery depend on the type and severity of the injury.
How to Tell If It's a Pulled Muscle
It can be hard to tell the cause unless the individual has experienced the specific type of pain before. Otherwise, it is recommended to consult a medical professional like a physical therapist or chiropractor. This is because shoulder pain can be caused by inflammation of the tendons and joints and/or the joint itself.
Pulled Muscle Shoulder Symptoms
A pulled muscle is characterized by:
Tenderness
Dull, sore, or aching pain.
Sometimes it can cause shooting pain between the shoulder blades in the front or back.
Pain when the shoulder is at rest.
Pain when the specific muscle is used.
Swelling of the area.
Shoulder instability.
The shoulder feels fragile.
Movement causes pain.
A bump may develop at the top of the shoulder near the end of the collarbone.
Inability to use the muscle at all.
If the pain is persistent, it could signify that there is something other than a pulled muscle like a pinched nerve or a joint issue.
Treatment and Recovery Options
Treatment and recovery vary and depend on the severity of the pull and the individual's overall health. Many find that their pain is reduced with self-care in 2 or 3 weeks. Chiropractic treatment for a pulled shoulder muscle can provide relief within 1 or 2 weeks.
Self Care
Depending on the severity of the pull and how much pain is being experienced, individuals could be recommended to take an NSAID like Ibuprofen to reduce pain and swelling. Self-care can include:
Ice To Reduce Swelling
Applying ice or a cold pack to the area can help reduce swelling.
Place a cloth or towel between the skin and the cold pack.
Apply it for 20 minutes an hour.
The swelling should reduce in a day or two.
Rest
It is recommended to rest the shoulder for no more than 2 or 3 days.
This begins the healing process and prevents worsening the injury.
Wrap or Sling
During rest days, it can be hard to keep the shoulder from moving.
To avoid this, use a shoulder wrap or a sling to support the arm.
However, they should not be used for more than 2 or 3 days.
Gentle Stretching
It is essential to get the muscle working again after 2 or 3 days of rest.
Stretches will help the muscle group heal and gain strength.
Not stretching the muscle could prolong recovery and worsen the injury, and possibly cause new injuries.
Stretches For a Pulled Shoulder
Stretching a pulled shoulder muscle after a few days of rest is recommended because not working out the injured muscle can cause more problems. Not using the muscle can cause it to atrophy, which will take longer to heal, and the surrounding muscles become weak.
Pendulum Stretch
Slightly bent support the body by placing the unaffected arm on a table or chair.
Let the injured arm hang straight down.
Swing the arm in small circles clockwise as far as the pain or discomfort allows.
Perform for 1 minute.
Go counterclockwise for one minute.
Repeat 4 to 8 times throughout the day.
Chiropractic
If self-care is not providing sufficient relief, then chiropractic treatment is recommended. A doctor of chiropractic can advise on the best treatment options and get to the root of the issue. Chiropractors have a treatment arsenal of modalities and approaches to help treat pulled muscles. These include:
Chiropractic adjustments
Physical therapy
Cold laser therapy
Electrical stimulation
Manual stretching
Correction exercises
Ultrasound
Health coaching
---
Body Composition
---
Three Somatotypes – Body Shapes
A somatotype is the overall shape and composition of the human body. Body types based on physique have three generalized divisions:
Endomorph
Mesomorph
Ectomorph
However, it is rare for someone to fall entirely into one somatotype. Individuals can have a combination of qualities from two somatotypes, like an ectomorph-endomorph hybrid or an endomorph-ectomorph, for example.
Ectomorphs
Naturally lean with long limbs, ectomorphs typically possess a slender look no matter what type of diet.
A lot of endurance runners and swimmers are ectomorphs.
Ectomorphs may have a decent amount of muscle but may appear to have less muscle development because of their long limb length.
Body fat also seems to get hidden by the long, slender figure, which means they can get away with a few extra pounds of fat.
However, if ectomorphs do not watch their health, they can become skinny fat.
Mesomorphs
Mesomorphs have a natural athletic look.
They can achieve a muscular physique without really trying.
The physiology tends to include:
Narrow hips
Wide back
A large frame contributes to a muscular appearance.
Many professional fighters, football, and basketball players are mesomorphs.
Endomorphs
Endomorphs have a larger structure with wide hips and shoulders.
Shorter arms and legs.
This type of body shape is excellent for activities that require a lot of strength.
Rugby players, strength athletes, and powerlifters are endomorphs.
This body type is considered to be a contributing performance factor in Ironman athletes.
References
Blache, Y et al. "Superficial shoulder muscle co-activations during lifting tasks: Influence of lifting height, weight, and phase." Journal of electromyography and kinesiology: official journal of the International Society of Electrophysiological Kinesiology vol. 25,2 (2015): 355-62. doi:10.1016/j.jelekin.2014.11.004
Brantingham, James W et al. "Manipulative therapy for shoulder pain and disorders: expansion of a systematic review." Journal of manipulative and physiological therapeutics vol. 34,5 (2011): 314-46. doi:10.1016/j.jmpt.2011.04.002
Kandel, Michel et al. "Somatotype, training and performance in Ironman athletes." European journal of sports science vol. 14,4 (2014): 301-8. doi:10.1080/17461391.2013.813971
McFarland, Daniel C et al. "Spatial dependency of shoulder muscle demand during dynamic unimanual and bimanual pushing and pulling." Applied ergonomics vol. 73 (2018): 199-205. doi:10.1016/j.apergo.2018.07.011
Disclaimers
Professional Scope of Practice *
The information herein on "Pulled Shoulder Muscle" is not intended to replace a one-on-one relationship with a qualified health care professional or licensed physician and is not medical advice. We encourage you to make healthcare decisions based on your research and partnership with a qualified healthcare professional.
Blog Information & Scope Discussions
Our information scope is limited to Chiropractic, musculoskeletal, physical medicines, wellness, contributing etiological viscerosomatic disturbances within clinical presentations, associated somatovisceral reflex clinical dynamics, subluxation complexes, sensitive health issues, and/or functional medicine articles, topics, and discussions.
We provide and present clinical collaboration with specialists from various disciplines. Each specialist is governed by their professional scope of practice and their jurisdiction of licensure. We use functional health & wellness protocols to treat and support care for the injuries or disorders of the musculoskeletal system.
Our videos, posts, topics, subjects, and insights cover clinical matters, issues, and topics that relate to and directly or indirectly support our clinical scope of practice.*
Our office has reasonably attempted to provide supportive citations and has identified the relevant research study or studies supporting our posts. We provide copies of supporting research studies available to regulatory boards and the public upon request.
We understand that we cover matters that require an additional explanation of how it may assist in a particular care plan or treatment protocol; therefore, to further discuss the subject matter above, please feel free to ask Dr. Alex Jimenez, DC, or contact us at 915-850-0900.
We are here to help you and your family.
Blessings
Dr. Alex Jimenez DC, MSACP, RN*, CCST, IFMCP*, CIFM*, ATN*
email: coach@elpasofunctionalmedicine.com
Licensed as a Doctor of Chiropractic (DC) in Texas & New Mexico*
Texas DC License # TX5807, New Mexico DC License # NM-DC2182
Licensed as a Registered Nurse (RN*) in Florida
Florida License RN License # RN9617241 (Control No. 3558029)
Presently Matriculated: ICHS: MSN* FNP (Family Nurse Practitioner Program)
Dr. Alex Jimenez DC, MSACP, RN* CIFM*, IFMCP*, ATN*, CCST
My Digital Business Card