With a growing belly and changes in connective tissue, many pregnant women are unable to stay comfortable. A pregnancy chiropractor is safe and effective in helping manage pain in the back, hips, legs, joints and establish pelvic balance. This can provide the baby with space to grow and move throughout the pregnancy and lead to faster, easier labor and delivery. Relief and better symptom management are possible with a pregnancy chiropractor.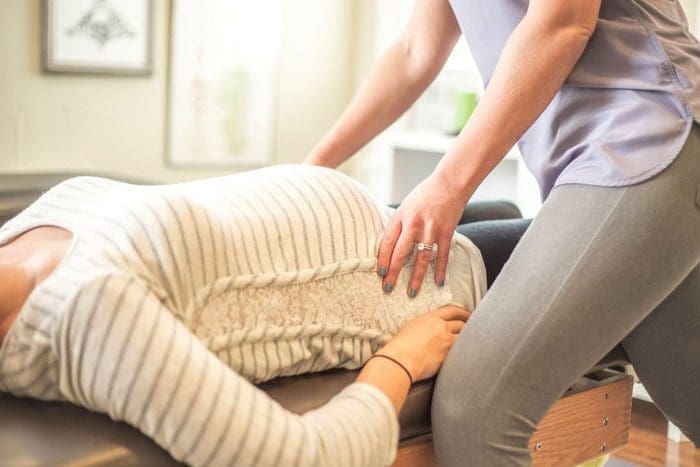 Chiropractic Is Safe During Pregnancy
Before engaging in any treatment during pregnancy, consult a doctor. For the most part, non-invasive chiropractic is considered safe for healthy, low-risk pregnancies and even higher-risk pregnancies once cleared by a doctor. Because pregnant women cannot take medications or undergo other invasive treatment options for pain, chiropractic treatment is recommended for sore, tight muscles, irritability, and pain management.
How A Pregnancy Chiropractor Can Help
What a chiropractor can offer includes:
Restore pelvic balance.
Improve mechanics for standing, sitting, and walking that could otherwise cause pain.
Pain management through therapeutic massage and adjustments.
Spinal alignment is restored.
Improved blood perfusion.
Energy levels improve.
Reduce symptoms of nausea.
Better positioning and movement for the baby.
Optimize the pelvic position to allow for an easier birth; evidence indicates a shorter labor time thanks to an optimal pelvic position.
Clinic Appointment
The pregnancy chiropractor begins with an initial consultation. Here the patient asks questions, discusses any concerns, along with a full assessment of medical history. They will suggest various treatment options to restore the body to its optimal balance. The chiropractor will continually monitor the patient to tailor the treatments to their specific needs and achieve the most relief.
---
Body Composition
---
Impact of Breastfeeding and Body Composition
It turns out that breastfeeding and weight loss are showing that there could be a relationship. A study suggested that breastfeeding could eliminate weight gain during six months. These findings are corroborated by another study comparing body fat loss between exclusively breastfeeding and mixed feeding mothers. The researchers found that exclusively breastfeeding promotes more significant body fat loss than mixed feeding among mothers during the first 12 weeks after childbirth. A weight loss of approximately about a pound per week between 4 and 14 weeks after delivery in overweight, lactating women who were exclusively breastfeeding showed no adverse effect on the growth and development of their newborns.
References
Bernard, Maria, and Peter Tuchin. "Chiropractic Management of Pregnancy-Related Lumbopelvic Pain: A Case Study." Journal of chiropractic medicine vol. 15,2 (2016): 129-33. doi:10.1016/j.jcm.2016.04.003
Borggren, Cara L. "Pregnancy and chiropractic: a narrative review of the literature." Journal of chiropractic medicine vol. 6,2 (2007): 70-4. doi:10.1016/j.jcme.2007.04.004
Weis, Carol Ann et al. "Chiropractic Care for Adults With Pregnancy-Related Low Back, Pelvic Girdle Pain, or Combination Pain: A Systematic Review." Journal of manipulative and physiological therapeutics vol. 43,7 (2020): 714-731. doi:10.1016/j.jmpt.2020.05.005