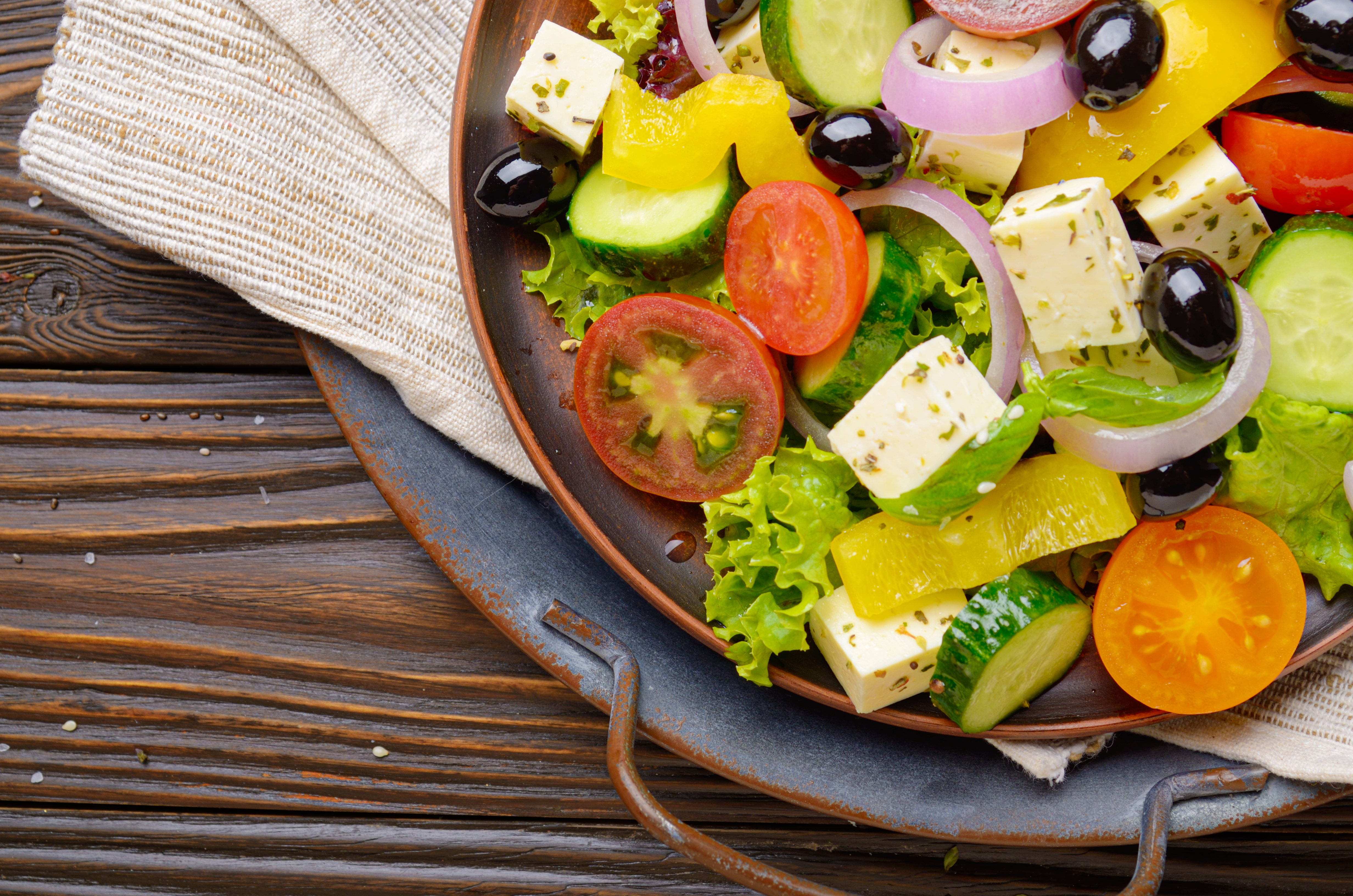 Mediterranean Diet, Phase Angle, and PCOS
Dietary patterns are part of the treatment plan for multiple conditions. The Mediterranean diet, rich in fresh fruits, nuts, oils, and complex carbohydrates, is an impactful dietary plan that improves PCOS symptoms. Nevertheless, before determining the treatment plan, the patient should undergo an exhaustive clinical, biochemical and anthropometrical assessment. Indeed, this is when a bioelectrical impedance analysis makes it easier for the patient while providing crucial information to the clinician. Furthermore, each anthropometric marker's continuous comparison may serve as a control point that transforms the personalized nutritional plan.
Polycystic ovarian syndrome (PCOS) is the most common female condition, with an 18% prevalence on reproductive women worldwide. This syndrome's main anthropometric characteristics are overweight, excessive fat mass, and low muscle to fat mass ratio. However, a small percent of women diagnosed with this syndrome have an average weight.
PCOS characteristics by the Rotterdam criteria:
Clinical hyperandrogenism (seborrea, hirsutism, acne, and alopecia).

Presence of ovarian cysts (diagnosed by ultrasound examination).

Oligo-amenorrhea with oligo-anovulation.
Besides these hormonal issues and obesity, PCOS comes with a low-grade inflammatory status, insulin resistance (IR) which induces compensatory hyperinsulinemia amplifying the metabolic and reproductive outcomes.
Also, the compensatory hyperinsulinemia contributes to the androgenic activity, creating positive feedback with IR inducing body composition changes that lead to obesity and excessive fat mass.
Weight loss as a treatment for PCOS
Lifestyle changes that lead to weight loss prove to be a suitable treatment for patients with PCOS diagnosis. Indeed, changes in dietary intake can improve body composition and improve metabolic markers in patients with PCOS. However, it is not yet elucidated what type of nutritional approach is more effective to achieve these results. 
The Mediterranean diet (MD) is strongly advised by clinicians when PCOS is present. Indeed, among the nutritional strategies, MD associates with a lower concentration of inflammatory markers and a modulator for gut bacteria. The former response is currently due to the high levels of short-chain fatty acid (SCFA) production induced by MD's high dietary fiber content. Also, MD promotes a better omega6/omega3 ratio, which relates to lower inflammatory responses. The improvement of omega-3 fatty acid intake and elevated serum antioxidant levels by the adherence to MD results in better outcomes in patients dealing with PCOS.
Body Composition: phase angle and nutritional advice.
Body composition analysis is the first step towards determining dietary changes. Nevertheless, some anthropometric markers provide greater insight into the underlying cause of this condition than others. Such is the case for phase angle, supplied by a BIA device, a feature that associates the cellular membrane permeability with the patient's low-grade inflammatory status.
A 2005 clinical research paper published by the American Journal of Clinical Nutrition mentions that the phase angle marker applications were not still precise. However, the main objective of this paper was to determine the reference values for the phase angle. Also, it concludes that men tend to have a higher phase angle measurement when compared to women. Besides, the authors mention a slight phase angle difference among races.
Some of the crucial points to take out from this report, while considering the year of publication, are the following:
The phase angle is a reliable predictive tool in multiple clinical situations: bacteremia, cirrhosis, pulmonary tuberculosis, renal disease, and cancer.

At the time, phase angle was not applied in healthy, bedridden, and elderly populations.

This study confirmed the influential association between phase angle and BMI. 

The research suggests that phase angle has a potent relation with age, as it appears to decrease with this factor. Therefore, the phase angle is an indicator of function and general health.

Finally, in this particular study, the youngest group (18-20y) is underrepresented. Therefore, the authors advise caution.
Clinical applications:
A 2019 study evaluated 224 participants with MD, its adherence, and the overall effect on metabolic, anthropometric, hormonal, and inflammatory markers.
One hundred twelve participants were previously diagnosed with PCOS, while the rest was the control population. Several biochemical and anthropometric markers were measured before and after the intervention. Furthermore, here are some of the most important findings.
Initial findings remark a strong association between a low phase angle and PCOS diagnosis compared to healthy controls. However, the authors did not report the final result.

PCOS patients had higher fat mass than their healthy counterparts after being matched by BMI. However, a high-fat mass has a direct link with elevated inflammatory markers.

 The phase angle serves as a potent marker for obesity, inflammation, and hydration status in PCOS patients.

The study states that their results show that a lower phase angle suggests an inflammatory status and hyperandrogenemia.

The authors conclude that the Phase angle can be a marker of PCOS's severity.
The treatment protocol for a patient with PCOS should follow the clinical guidelines of an anthropometric, biochemical, clinical, and dietetic assessment. Also, it should be tailored to the patient's needs, following the treatment guidelines. The foods that integrate the MD pattern provide anti-inflammatory properties that result in better body composition, hormonal and metabolic markers. 
The interaction between the anti-inflammatory foods, their effect on PCOS's metabolic and hormonal markers is crucial for a proper nutritional protocol provision. Indeed, the phase angle can improve inflammation detection; the challenging part is to fight it. The correct use of all our tools and following treatment and advice is the best way to promote a healthy recovery.- Ana Paola Rodríguez Arciniega, MS
References:
Barbosa-Silva, Maria Cristina G., et al. "Bioelectrical impedance analysis: population reference values for phase angle by age and sex–." The American journal of clinical nutrition 82.1 (2005): 49-52.
Barrea, Luigi, et al. "Adherence to the mediterranean diet, dietary patterns and body composition in women with polycystic ovary syndrome (PCOS)." Nutrients 11.10 (2019): 2278.
Additional Online Links & Resources (Available 24/7)
Online Appointments or Consultations: https://bit.ly/Book-Online-Appointment
Online Physical Injury / Accident Intake Form: https://bit.ly/Fill-Out-Your-Online-History 
Online Functional Medicine Assessment: https://bit.ly/functionmed
Disclaimer
The information herein is not intended to replace a one-on-one relationship with a qualified healthcare professional, licensed physician, and not medical advice. We encourage you to make your own health care decisions based on your research and partnership with a qualified health care professional. Our information scope is limited to chiropractic, musculoskeletal, physical medicines, wellness, sensitive health issues, functional medicine articles, topics, and discussions. We provide and present clinical collaboration with specialists from a wide array of disciplines. Each specialist is governed by their professional scope of practice and their jurisdiction of licensure. We use functional health & wellness protocols to treat and support care for the musculoskeletal system's injuries or disorders. Our videos, posts, topics, subjects, and insights cover clinical matters, issues, and issues that relate to and support, directly or indirectly, our clinical scope of practice.* Our office has made a reasonable attempt to provide supportive citations and has identified the relevant research study or studies supporting our posts. We provide copies of supporting research studies available to regulatory boards and the public upon request. We understand that we cover matters that require an additional explanation of how it may assist in a particular care plan or treatment protocol; therefore, to further discuss the subject matter above, please feel free to ask Dr. Alex Jimenez or contact us at 915-850-0900. Read More.
Dr. Alex Jimenez DC, MSACP, CCST, IFMCP*, CIFM*, CTG*
email: coach@elpasofunctionalmedicine.com
phone: 915-850-0900
Licensed in Texas & New Mexico
What's your reaction?