Maintaining the body's musculoskeletal system and keeping it strong can be done through chiropractic and by managing general overall health. This system includes the:
Bones
Muscles
Tendons
Ligaments
Soft tissues
These all work together to support the body's weight and allow for movement. Injuries, disease, and aging can cause stiffness, pain, and other issues with mobility, function that can lead to various conditions and/or disease.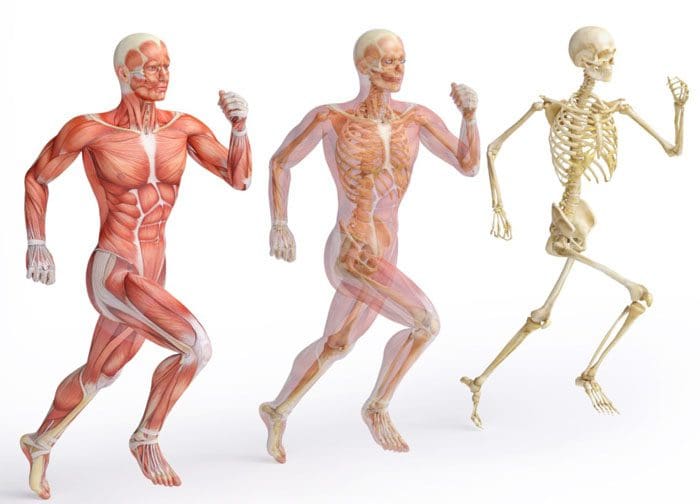 The musculoskeletal system
The skeleton provides the framework for the muscles and other soft tissues. Working together, they support the body's weight, help to maintain proper posture and the ability for movement. Various disorders and conditions can lead to problems with the musculoskeletal system. This includes:
Aging
Injuries
Congenital anomalies (congenital disabilities)
Disease
All can cause pain and limit movement.
Focusing on overall health and maintaining it will keep the system in top form. This is done by:
Eating a healthy balanced diet
Maintaining a healthy weight
Regular physical activity/exercise
Chiropractic support will take the body to optimal health levels.
How does the system work?
The nervous system is the body's central command center. It controls voluntary muscle movements. Voluntary muscles are controlled intentionally. Large muscle groups are utilized to do activities like lifting a large object. Smaller groups are used for movements, like pressing a button. Movement/motion occurs when:
The nervous system which includes the brain and nerves, transmits a signal to activate the skeletal/voluntary muscles.
The muscle fibers contract/tense in response to the signal.
When the muscle activates, it pulls on the tendon.
Tendons attach muscles to bones.
The tendon pulls the bone, generating movement.
For the muscle to relax, the nervous system sends another signal.
This signal triggers the muscle/s to relax/deactivate.
The relaxed muscle releases tension
The bone is moved to a resting position.
System Parts
The musculoskeletal system functions to help stand, sit, walk, run and move in general. The adult body has 206 bones and more than 600 muscles. These are connected by ligaments, tendons, and soft tissues. The parts of the system are:
Bones
Bones support the body, protect organs and tissues, store calcium, fat and produce blood cells.
A bone's outside shell encapsulates a spongy center.
Bones provide structure and form to the body.
They work with the muscles, tendons, ligaments, and other connective tissues to help with movement.
Cartilage
This is a type of connective tissue.
Cartilage provides cushion to the bones inside the joints, along the spine, and ribcage.
It is firm and rubbery.
It protects bones from rubbing against each other.
It is also found in the nose, ears, pelvis, and lungs.
Joints
Bones come together and form joints.
Some have a large range of motion, for example, the ball-and-socket shoulder joint.
Others, like the knee, allow bones to move back and forth but do not rotate.
Muscles
Every muscle is made of thousands of fibers.
The muscles allow the body to move, sit upright, and remain still.
Some muscles help with running, dancing, and lifting.
Others are for writing, fastening something, talking, and swallowing.
Ligaments
Ligaments are made of tough collagen fibers
They connect the bones and provide stability to the joints.
Tendons
Tendons connect the muscles to the bones.
They are made of fibrous tissue and collagen
They are tough but not as stretchable.
Conditions and disorders
Various conditions can cause problems with the musculoskeletal system. They can affect the way an individual moves. The most common causes of inflammation, pain, and mobility issues are:
Aging
With the natural aging process, bones lose density.
Less-dense bones can lead to osteoporosis and bone fractures/broken bones.
As the body ages, muscles lose their mass, and cartilage starts to wear down.
This can lead to pain, stiffness, and decreased range of motion.
After an injury, an individual might not heal as quickly.
Arthritis
Pain, inflammation, and joint stiffness are the result of arthritis.
Older individuals are more likely to develop osteoarthritis. This is from the cartilage inside the joints breaking down. However, the condition can affect individuals of all ages.
Other types of arthritis also cause pain and inflammation. This includes:
Rheumatoid arthritis
Ankylosing spondylitis
Gout
Back problems
Back pain and muscle spasms can result from muscle strains or injuries, for example, a herniated disc.
Some conditions like spinal stenosis and scoliosis can cause structural problems in the back.
This can lead to pain and limited mobility.
Cancer
Congenital abnormalities
Congenital abnormalities can affect the body's structure, function, and appearance. For example, clubfoot is a common musculoskeletal condition that babies can be born with. It causes stiffness and reduces the range of motion.
Disease
A wide range of diseases can affect bones, muscles, and connective tissues functionality.
For example, osteonecrosis causes the bones to deteriorate and the cells to die.
Other disorders, like fibrous dysplasia and brittle bone disease, cause the bones to fracture/break easily.
Conditions that affect the skeletal muscles are known as myopathies include types of muscular dystrophy.
Injuries
All types of injuries can affect bones, muscles, cartilage, and connective tissues.
Injuries can occur from repetitive overuse. Examples include:
Carpal tunnel syndrome, Bursitis, and Tendinitis
Sprains
Muscle tears
Broken bones
Injuries to the tendons, ligaments and other soft tissues can lead to chronic conditions.
Maintaining musculoskeletal health
Recommended ways of maintaining a healthy musculoskeletal system are to keep the bones and muscles healthy by getting:
Regular physical activity and exercise
This includes weight-bearing exercises combined with cardiovascular activities. Strengthening the muscles will support the joints and protect/prevent damage.
Proper sleep
This is so the bones and muscles can recover and rebuild.
Maintain a healthy weight
Added weight places pressure on the bones and joints.
This causes various health problems.
If there is added weight, it is recommended to consult a health coach and nutritionist about a personalized weight-loss plan.
They can help make healthy food choices that will make for strong bones and include anti-inflammation foods.
Quit tobacco use
Smoking decreases blood flow in the body.
The bones, muscles, and soft tissues need proper blood circulation to maintain health.
Regular chiropractic adjustments
Adjustments will help maintain the body's balance and alignment.
This, along with recommended stretches and exercises, will take the body to optimal health.
---
Healthy Body Composition
---
Bodyweight Squat
This is one of the best strength exercises for building general functional low body strength. The muscle groups that get worked include the:
Quadriceps
Hamstrings
Glutes
Deep abdominals
Hip abductors
Hip rotators
Squats work almost every muscle in the legs. This also builds core strength to help with everyday movements like pushing, pulling, and lifting. There is no need to load added weight on the back to benefit from this exercise. Using the body's weight is a perfect workout. This can be done with several variations once strength is built up. The objective is to focus on strict form for maximum effectiveness.
The feet should be shoulder-width apart.
Bend at the hips
Don't let the knees go past the toes.
Lower the body until the thighs are parallel to the floor
References
American Chiropractic Association. Back Pain Facts and Statistics. Accessed 1/5/2021.
Centers for Disease Control and Prevention. Arthritis. Accessed 1/5/2021.
Centers for Disease Control and Prevention. Arthritis-Related Statistics. Accessed 1/5/2021.
Centers for Disease Control and Prevention. Work-Related Musculoskeletal Disorders & Ergonomics. Accessed 1/5/2021.
Merck Manuals. Effects of Aging on the Musculoskeletal System. Accessed 1/5/2021.
National Institute of Arthritis and Musculoskeletal and Skin Diseases. Healthy Muscles Matter. Accessed 1/5/2021.
Disclaimers
Professional Scope of Practice *
The information herein on "Human Musculoskeletal System" is not intended to replace a one-on-one relationship with a qualified health care professional or licensed physician and is not medical advice. We encourage you to make healthcare decisions based on your research and partnership with a qualified healthcare professional.
Blog Information & Scope Discussions
Our information scope is limited to Chiropractic, musculoskeletal, physical medicines, wellness, contributing etiological viscerosomatic disturbances within clinical presentations, associated somatovisceral reflex clinical dynamics, subluxation complexes, sensitive health issues, and/or functional medicine articles, topics, and discussions.
We provide and present clinical collaboration with specialists from various disciplines. Each specialist is governed by their professional scope of practice and their jurisdiction of licensure. We use functional health & wellness protocols to treat and support care for the injuries or disorders of the musculoskeletal system.
Our videos, posts, topics, subjects, and insights cover clinical matters, issues, and topics that relate to and directly or indirectly support our clinical scope of practice.*
Our office has reasonably attempted to provide supportive citations and has identified the relevant research study or studies supporting our posts. We provide copies of supporting research studies available to regulatory boards and the public upon request.
We understand that we cover matters that require an additional explanation of how it may assist in a particular care plan or treatment protocol; therefore, to further discuss the subject matter above, please feel free to ask Dr. Alex Jimenez, DC, or contact us at 915-850-0900.
We are here to help you and your family.
Blessings
Dr. Alex Jimenez DC, MSACP, RN*, CCST, IFMCP*, CIFM*, ATN*
email: coach@elpasofunctionalmedicine.com
Licensed as a Doctor of Chiropractic (DC) in Texas & New Mexico*
Texas DC License # TX5807, New Mexico DC License # NM-DC2182
Licensed as a Registered Nurse (RN*) in Florida
Florida License RN License # RN9617241 (Control No. 3558029)
Presently Matriculated: ICHS: MSN* FNP (Family Nurse Practitioner Program)
Dr. Alex Jimenez DC, MSACP, RN* CIFM*, IFMCP*, ATN*, CCST
My Digital Business Card