Introduction
The upper arms allow the individual to move the arms, hands, and fingers, enabling them to do everyday activities without feeling pain or injuries. Different muscles in the upper arms allow precise movements, from threading a needle to throwing a ball across the field. These muscles also work with the shoulders, allowing a full range of motion and flexion. One of the muscles that help the upper arms is the bicep brachii, which provide flexion to the arm. However, like all the muscles in the body, they can succumb to pain caused by trigger points. Today's article looks at the bicep muscles' function, how trigger points affect the muscles, and how to manage trigger points associated with the bicep muscles. We refer patients to certified providers who specialize in arm pain treatments to aid individuals suffering from trigger points associated with the bicep brachii muscles along the upper arms. We also guide and inform our patients by referring them to our associated medical providers based on their examination when appropriate. We established that education is a great solution to asking our providers profound questions the patient requests. Dr. Jimenez DC takes note of this information as an educational service only. Disclaimer
What Are The Bicep Muscles Function?
Have you been dealing with radiating pain down to your elbow? Do your upper arm muscle ache when carrying items from place to place? Or have you experienced muscle spasms in your arms and hands? Many people experiencing these symptoms might risk developing trigger points along their bicep muscles. The bicep brachii is a large, thick muscle that covers the joints and is located in the upper arms. The bicep muscle consists of two attachments: the short head (caput breve) and the ling head (caput longum). It works together with the coracobrachialis muscle to support stability to the shoulders.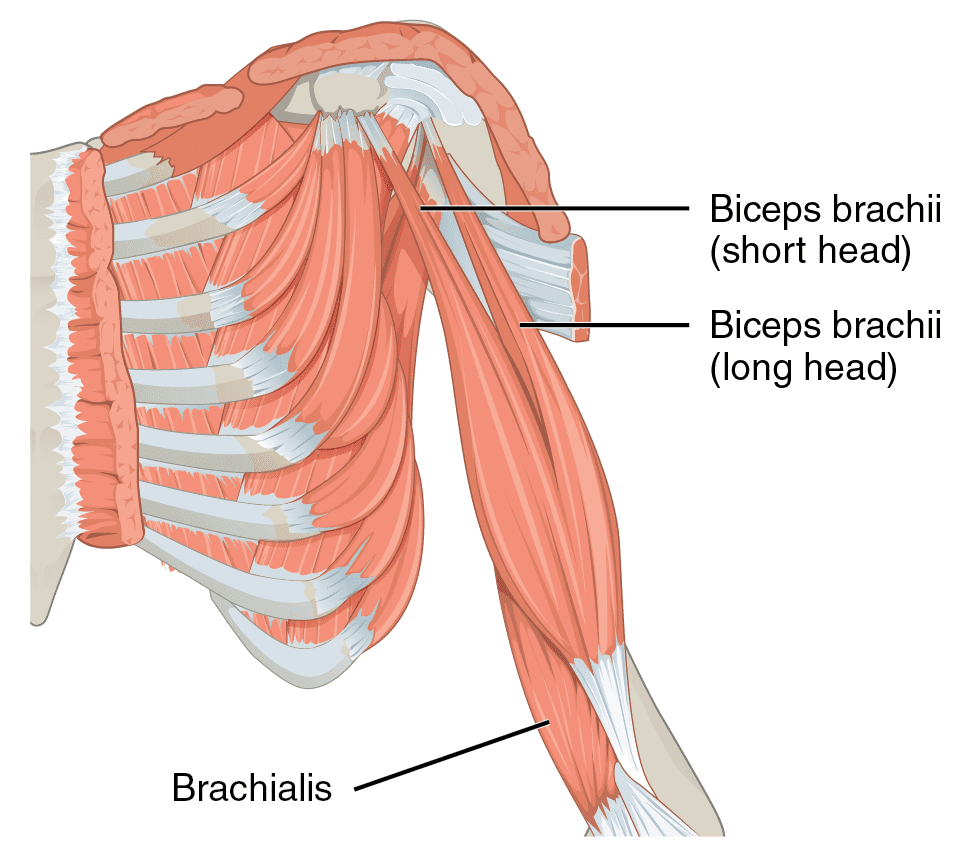 Studies reveal that these two muscle bands work together to provide multiple actions between the shoulder and elbow joints by being in conjunction with the other muscles. The main function of the bicep muscles is that it is one of the three muscles that can flex the elbow and shoulders. The biceps also allow flexion and supination or outward rotation of the forearms at 90 degrees. This muscle is very important for athletes that require lifting, carrying, or throwing and can make the individual stronger. To that point, the bicep muscle can also succumb to injuries that can cause pain to the upper arms and shoulders.
How Does Trigger Points Affect The Bicep Muscles?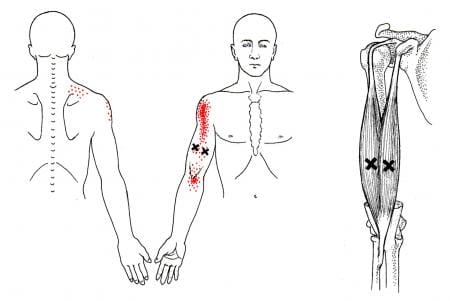 When the bicep muscles succumb to injuries, it can be due to overusing the long head of the bicep muscles and can lead to bicep tendon rupture. When the bicep muscle succumbs to a tendon rupture, it is due to excessive eccentric force that brings the arms to an extension rather than flexion. Other issues affecting the biceps can correlate to rotator cuff pathology and can be associated with being a common source of shoulder pain. Studies reveal that since the bicep is closely associated with the rotator cuff, tendinopathy can form due to repetitive traction, friction, and rotation of the shoulder joints. To that point, it can lead to the development of trigger points along the bicep muscles. Trigger point pain can be complicated to diagnose since it can mimic other chronic conditions. For trigger points to occur along the bicep muscles, pain-like symptoms are caused when the arm is above the shoulder. To that point, it causes symptoms of aches, stiffness, and muscle weakness in the bicep muscles.
---
Trigger Points Affecting The Bicep Brachii- Video
Have you experienced muscle aches and stiffness when lifting your arms above your shoulders? Do you find difficulty to bend your elbows? Or have you been experiencing radiating pain along the shoulders, arms, and hands? These pain-like symptoms are associated with trigger points along the bicep muscles and can evoke motor dysfunction in the upper arms. The video above gives an overview how trigger points affect the bicep brachii and cause symptoms like "frozen shoulder" to affect the entire arm. Studies reveal that trigger points are the most frequent causes of chronic musculoskeletal pain that causes the muscle tissue to become hyperirritable. Trigger points can also cause referred pain to the affected muscles, causing limited range of motion to the joints. When the bicep muscles are being affected by trigger points, it can cause stress on the muscle and cause hyper-extension to the arm. According to Dr. Travell, M.D., when trigger points affect the bicep brachii muscles and cause referred pain and tenderness on the ball-and-socket joint, the symptoms associated with trigger points are mistaken as a rheumatic joint disease unless the affected bicep is examined for trigger points. Thankfully, there are ways to manage trigger points associated with the bicep muscles to reduce pain in the upper arms.
---
Managing Trigger Points Associated With The Bicep Muscles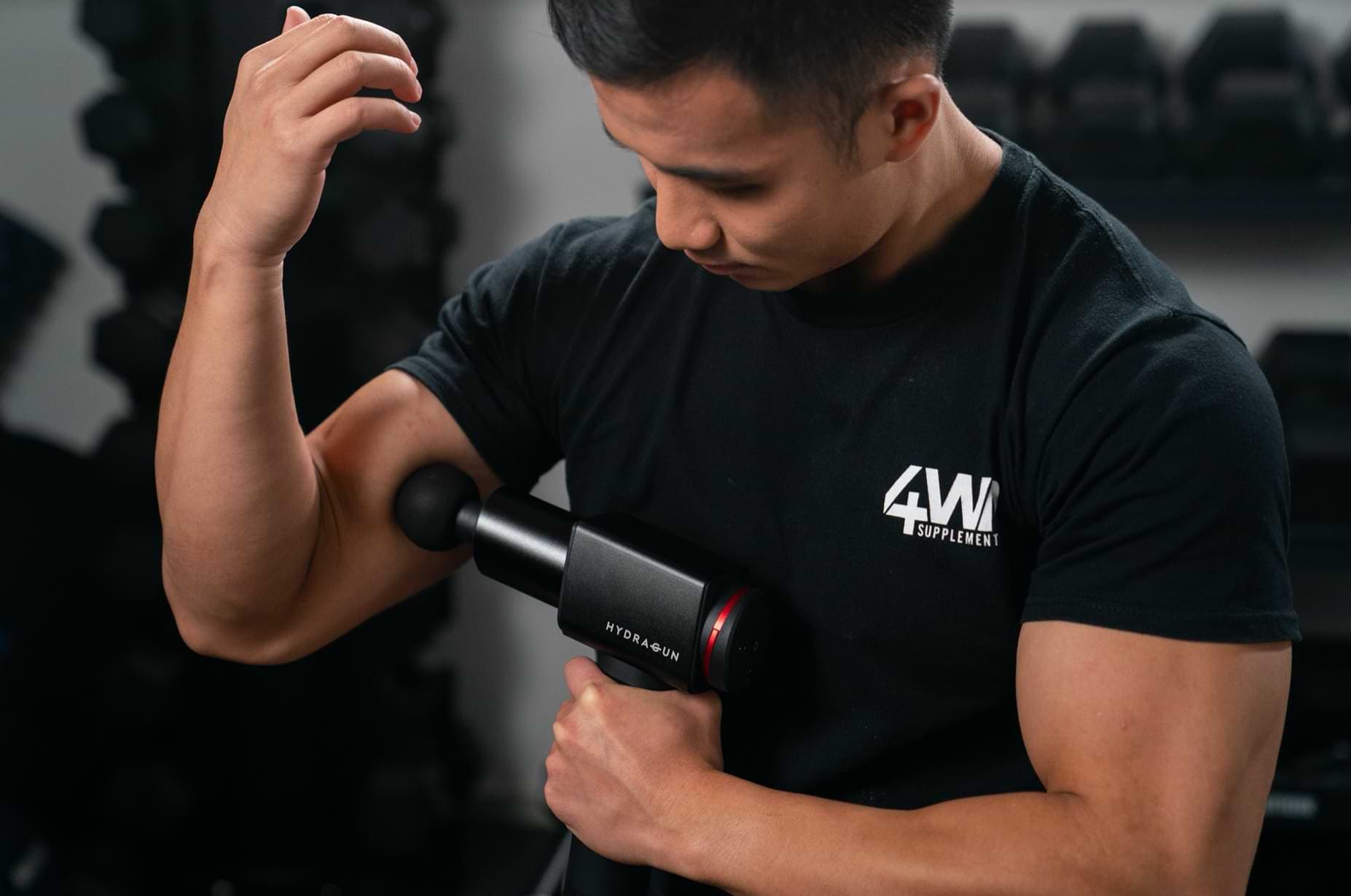 When individuals are suffering from pain along their bicep muscles, it can cause them to be miserable as they cannot participate in various activities that require their arms; when trigger points are formed along the taut muscle band of the bicep muscles, the radiating pain from the shoulder to the elbow, causing stiffness and muscle aches. Fortunately, various techniques can help manage trigger points associated with the bicep muscles. Studies reveal that many people can manage trigger points related to the bicep muscles to reduce shoulder pain by resting, modifying their activities, and seeking more non-invasive treatments to reduce the pain associated with the bicep muscles. Many people can do various arm and shoulder stretches to reduce the stiffness of the bicep muscles. This allows gentle stretching along the upper arm muscles and releases tension through slow, even breathing and prolonged shortening of the bicep muscles.
Conclusion
The bicep has two attachments that provide mobility and are a large thick muscle that covers the upper arm joints. The bicep muscles also work together with the coracobrachialis muscle to help support the shoulders by making them stable. When the bicep muscles become overused and succumb to injuries, they can develop trigger points along the bicep muscles, causing referred pain to the arms and shoulders. When this happens, the muscles become stiff and can become painful when doing simple actions like lifting their arms or playing a sport. When this happens, many individuals become miserable since they can't participate. Fortunately, various techniques can help reduce the pain symptoms in the arms and prevent future injuries. Gentle stretching and muscle massages can release the trigger points from the bicep muscles and improve arm mobility to the biceps.
References
Akamatsu, Flávia Emi, et al. "Trigger Points: An Anatomical Substratum." BioMed Research International, Hindawi Publishing Corporation, 2015, www.ncbi.nlm.nih.gov/pmc/articles/PMC4355109/.
Landin, Dennis, et al. "Actions of the Biceps Brachii at the Shoulder: A Review." Journal of Clinical Medicine Research, Elmer Press, Aug. 2017, www.ncbi.nlm.nih.gov/pmc/articles/PMC5505302/.
McDevitt, Amy W, et al. "Physical Therapy Interventions for the Management of Biceps Tendinopathy: An International Delphi Study." International Journal of Sports Physical Therapy, NASMI, 1 June 2022, www.ncbi.nlm.nih.gov/pmc/articles/PMC9159730/.
Raney, Elise B, et al. "Pain and the Pathogenesis of Biceps Tendinopathy." American Journal of Translational Research, e-Century Publishing Corporation, 15 June 2017, www.ncbi.nlm.nih.gov/pmc/articles/PMC5489872/.
Tiwana, Manpreet S, et al. "Anatomy, Shoulder and Upper Limb, Biceps Muscle." In: StatPearls [Internet]. Treasure Island (FL), StatPearls Publishing, 11 Aug. 2021, www.ncbi.nlm.nih.gov/books/NBK519538/.
Disclaimer
Disclaimers
Professional Scope of Practice *
The information herein on "The Biceps Being Affected By Trigger Points" is not intended to replace a one-on-one relationship with a qualified health care professional or licensed physician and is not medical advice. We encourage you to make healthcare decisions based on your research and partnership with a qualified healthcare professional.
Blog Information & Scope Discussions
Our information scope is limited to Chiropractic, musculoskeletal, physical medicines, wellness, contributing etiological viscerosomatic disturbances within clinical presentations, associated somatovisceral reflex clinical dynamics, subluxation complexes, sensitive health issues, and/or functional medicine articles, topics, and discussions.
We provide and present clinical collaboration with specialists from various disciplines. Each specialist is governed by their professional scope of practice and their jurisdiction of licensure. We use functional health & wellness protocols to treat and support care for the injuries or disorders of the musculoskeletal system.
Our videos, posts, topics, subjects, and insights cover clinical matters, issues, and topics that relate to and directly or indirectly support our clinical scope of practice.*
Our office has reasonably attempted to provide supportive citations and has identified the relevant research study or studies supporting our posts. We provide copies of supporting research studies available to regulatory boards and the public upon request.
We understand that we cover matters that require an additional explanation of how it may assist in a particular care plan or treatment protocol; therefore, to further discuss the subject matter above, please feel free to ask Dr. Alex Jimenez, DC, or contact us at 915-850-0900.
We are here to help you and your family.
Blessings
Dr. Alex Jimenez DC, MSACP, RN*, CCST, IFMCP*, CIFM*, ATN*
email: coach@elpasofunctionalmedicine.com
Licensed as a Doctor of Chiropractic (DC) in Texas & New Mexico*
Texas DC License # TX5807, New Mexico DC License # NM-DC2182
Licensed as a Registered Nurse (RN*) in Florida
Florida License RN License # RN9617241 (Control No. 3558029)
Presently Matriculated: ICHS: MSN* FNP (Family Nurse Practitioner Program)
Dr. Alex Jimenez DC, MSACP, RN* CIFM*, IFMCP*, ATN*, CCST
My Digital Business Card